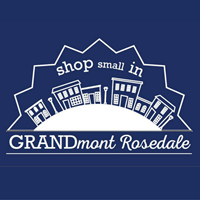 Our vendors are vital to the success of Shop Small, and we hope that you can be a part of this spectacular event!
This year it will be bigger and better than ever, including family activities, entertainment, food trucks and a host of great vendors. Shop Small Saturday will take place at four host locations on the Grand River corridor. All previous and new vendors are welcome and encouraged to fill out the application below to be a part.
If you would like to participate in Shop Small Saturday's, please fill out the following SHOP SMALL Application. All applications are due by Friday, October 18th, 2019.
I thank you for your interest in Shop Small Saturday on the Grand River Corridor 2019! Please feel free to reach out to me with any questions at bbell@grandmontrosedale or by phone at 313 384-4732 x 118.
Continua a leggere Aggiungi al calendario 11-30-2019 00:00:00 11-30-2019 00:00:00 "Shop Small" in Grandmont Rosedale Our vendors are vital to the success of Shop Small, and we hope that you can be a part of this spectacular event! This year it will be bigger and better than ever, including family activities, entertainment, food trucks and a host of great vendors. Shop Small Saturday will take place at four host locations on the Grand River corridor. All previous and new vendors are welcome and encouraged to fill out the application below to be a part. If you would like to participate in Shop Small Saturday's, please fill out the following SHOP SMALL Application. All applications are due by Friday, October 18th, 2019. I thank you for your interest in Shop Small Saturday on the Grand River Corridor 2019! Please feel free to reach out to me with any questions at bbell@grandmontrosedale or by phone at 313 384-4732 x 118. 19120 Grand River Detroit, MI 48223 Grand River WorkPlace false MM-dd-YYYY