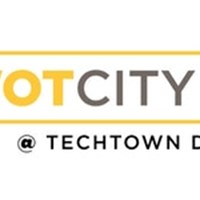 Would you like to connect with an expert in our Professional Services Network (PSN) or get an opinion on your big idea? Could you use some direction on how to secure funding, line up resources or make connections in Detroit's small business network? Fill out the form below to get the conversation started with a member of our team and schedule an Open Office Hour appointment.
Open Office Hours are available to both tech startups and neighborhood small businesses at all stages. At your Open Office Hour, a TechTown team member will discuss your goals and direct you to the appropriate programs, resources and experts in our Professional Services Network, based on your particular business needs.
These may be TechTown services or programs, they may be other resources within Detroit's entrepreneurial ecosystem, or a combination of both. Our goal is to match you with the resources that best fit your needs at this stage in your startup or small business' growth.
Lesen Sie mehr Zum Kalender hinzufügen 01-23-2020 00:00:00 05-31-2020 00:00:00 Open Office Hours + Ask an Expert Would you like to connect with an expert in our Professional Services Network (PSN) or get an opinion on your big idea? Could you use some direction on how to secure funding, line up resources or make connections in Detroit's small business network? Fill out the form below to get the conversation started with a member of our team and schedule an Open Office Hour appointment. Open Office Hours are available to both tech startups and neighborhood small businesses at all stages. At your Open Office Hour, a TechTown team member will discuss your goals and direct you to the appropriate programs, resources and experts in our Professional Services Network, based on your particular business needs. These may be TechTown services or programs, they may be other resources within Detroit's entrepreneurial ecosystem, or a combination of both. Our goal is to match you with the resources that best fit your needs at this stage in your startup or small business' growth. 19120 Grand River Detroit, MI 48223 Grand River WorkPlace false MM-dd-YYYY